Sailing in Sicily
A gastronomic and sailing tour in Sicily by Ella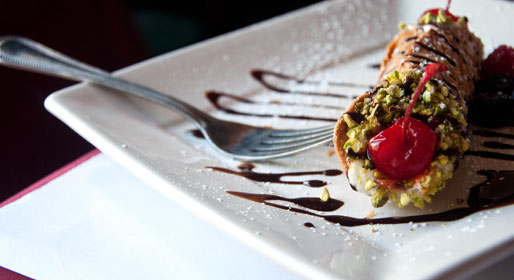 To get the most out of a sailing trip to Sicily, you should aim to have at least two weeks to spend cruising along the north and east coasts to see the volcanos and ancient sites as well as the spectacular landscape. The main port for Sicily is Palermo; other larger ports around the island are Cefalù and Portorosa Marina to the north, Riposto and Syracuse to the east, Marina di Ragusa to the south and Sciaccia to the west.

photo by gnuckx
The sunny season lasts from mid-April to October, and in good weather the winds are light. During peak season anchoring prices will soar, ranging from about €40 to €120 a night for a 12-metre boat.

Lovers of Italian food will be in heaven in Sicily - the island is thought by many to have the best food in the whole of Italy. Aside from traditional Italian influence, Sicilian cuisine also draws from Spanish, Greek and Arab cooking to give it wonderfully unique and unforgettable flavours.
From arancini to cannoli
photo by stu_spivack
A Sicilian dish that must be sampled when visiting the island is arancini, balls of creamy risotto rice stuffed with cheese, vegetables or meat, and then fried until they are crispy and golden on the outside.
Surrounded by the blue and bountiful Mediterranean, it's not surprising to learn that Sicily is also famed for its plentful frutti di mare. You should try to visit a fish market during your travels, where you can buy wonderfully fresh fish and try authentic Sicilian dishes like marinated sardines. Perhaps one of the best ways to sample Sicily's seafood is with pasta: '''linguine, garlic
and mussels''' are a perfect match.
photo by micurs
Sicily is also renowned for its sweet treats, especailly cannoli. Originating in the capital, Palermo, these mouth-watering pastries combine a fresh, crispy shell with an indulgent ricotta cream filling. Granita and brioche is another traditional Sicilian delicacy and consists of scoops of sorbet-like ground ice, sugar and fruit, sandwiched between slices of buttery brioche. Creamy nut flavours like almond are popular.
Dionysus, the god of wine
photo by VinoFamily
When it comes to which wine to wash your food down with, you won't be short of choice; Sicily has been making wine for millenia and legend has it that it was Dionysus, the god of wine himself, who planted the first grapes on the island. The signature red grape native to Sicily is Nero d'Avola, and its white grape equivalent is Cattaratto. Dessert wines are also very popular here due to the sugar content of the grapes and the sun's drying qualities - so make sure you try a glass of Marsala during your trip!
First photo is by Alexis Fam Photography
Our Insider is
Could you be our next Insider? Share your love of Italy by contributing to ItalyTraveller! See how!