Sicilian islands
An unforgettable cruise visiting some of the most remote and mysterious islands of Sicily.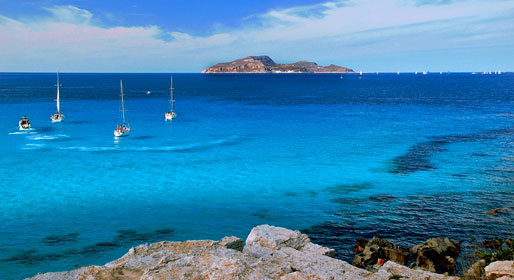 This Sicilian island cruise commences with the butterfly shaped Favignana island, part of Sicily's Egadi archipelago.
Best beaches
Favignana's main attractions are its beaches, the most impressive being the bay of Cala Rossa, with view of the island's old tuff quarries, and Cala Azzurra, where the soft white sand creates a dazzling contrast with the turquoise blue waters of the sea.
A boat trip circumnavigating the island gives passengers the opportunity to admire Favignana's many sea caves and for divers to explore a seabed littered with archaeological remains.
The Black pearl
From Favignana we head to Pantelleria, just 48kms away from the African coast. A mass of dark volcanic rock rising up out of the clear blue sea, Pantelleria boasts some of the most spectacular rock formations, including the striking Arco dell'Elefante.
Indication of the island's volcanic origin, at Cala Gadir the sea is heated by warm thermal spring waters - allowing for all year round bathing

A much-loved Pantelleria must-see, the Specchio di Venere is a small thermal lake the sulfurous mud of which has recognized healing properties.
Rabbit island
Part of a group of islands known as the Pelagian islands, Lampedusa is another jewel lying in the stretch of sea between Sicily and Africa.
Much loved by divers, Lampedusa boasts any number of beautiful beaches and rocky outcrops from where to dive in to the clear blue sea. This is where to find the famous Isola dei Conigli, where the Caretta Caretta turtle habitually lays its eggs.
Guitgia beach, the closest to the town center, is framed by the most stunning scenery. Cala Francese, Cala Croce and Cala Madonna are the names of just some of the other beaches where visitors to Lampedusa might choose to pass a day, enjoying the sun and sea of Sicily.
The friendly vulcano
Another island of the Pelagian archipelago, Linosa is a small black rock which, like Pantelleria, has volcanic origins. Monte Vulcano, a volcano which has been extinct for thousands of years, dominates the island.
Linosa is a favorite destination for scuba divers, its crystal clear waters home to an incredible variety of marine fauna and flora.