Italian chocolate makers
Chocolate lover's Tuscany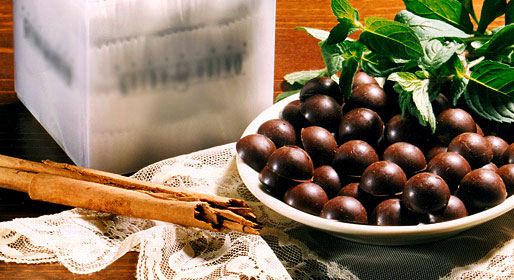 Whilst chocolate may not feature in Tuscany's ancient confectionary tradition, times have changed, so much so that today the area between Pisa and Prato, passing by Monsummano Terme and Agliana, has earned itself the name of "Chocolate Valley".
Tuscany is home to any number of internationally famous artisans of chocolate and a generation of talented young chocolatiers destined to further honor the name of Italian chocolate

Dutch courage
When the Dutch cook and confectioner Paul de Bondt fell in love with his future wife, Italian designer, Cecilia Iacobelli, he chose Pisa as the city in which to create a chocolate company which would best express the complementary nature of the couple's diverse characters.
Together they created a series of aromatic of "special" bars using pepper, peperoncino, ginger, and coriander, but also orange blossom, jasmine, bergamot and rose.
The de Bondt's success became an international one when they were named in Chantal Coady's highly authoritative The Chocolate Companion as one of the 15 best chocolate manufacturers in the world.
The "De Bondt Ryé" chocolates, created in collaboration with the Sicilian Donnafugata wine company, are the perfect accompaniment to the highly prized Passito of Pantelleria "Ben Ryé".
Chocolate lessons
Recently opened in Agliana, the Mannori Espace is an innovative polifunctional space, created by master chocolatier Luca Mannori.
This is an open, chocolate laboratory where you can watch the young, and highly professional team at work, attend courses and seminars and, of course, taste and purchase the confectionery produced.
Agliana is also the chosen base for the doyen of Tuscan chocolatiers, Roberto Catinari.
Despite Catinari's worldwide fame, his shop 'Arte del Cioccolato is surprisingly simple. However, it is here that chocolate lovers experience the most intense of cocoa-induced pleasures.
Prize-winning pralines
Monsummano Terme, in the province of Pistoia, is the home town of Andrea Slitti, the Tuscan chocolatier who won first prize in the 1994 Grand Prix International de la Chocolaterie in Paris.
Among the many delicacies on sale at the Caffé Slitti you find "Ricciosa" and "Slittosa" creams, "Tortina", chocolate covered disks of puffed rice and almonds, and a fabulous assortment of coffee-filled pralines.