Hotels to remember: Riva del Garda
Riva del Garda: introduction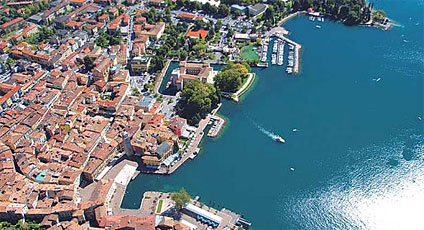 Dominated by the spectacular scenery of Lake Garda, Riva del Garda is situated in a unique position, immersed in a patchwork of landscapes from the Mediterranean to the mountainous, framed by the Dolomites.
It is a place with a great history and a culture of truly ancient origins, traces of which can be found in the various sites to be visited such as Piazza III Novembre, the Casa del Comune, Piazza S. Rocco, the Church of St Rocco and St Virgilio, Porta San Marco, the Apponale tower, Porta San Francesco, the Church of St. Maria Assunta, the Fort and the Civic Museum.
In addition to the beauties of the Riva del Garda, those who enjoy excursions will love the walks which lead into the hills, where one can visit the Bastione, the Church of St Barbara, the Port of St Nicolò, the Villino Campi and Punta Lido.
The districts of Riva del Garda are also worth visiting, districts such as San Tommaso, where one finds the small Church dedicated to the Archbishop of Canterbury, Thomas Becket and then there is Varone, Campi and Pregasina where one can admire the Church of St Giorgio.
Riva del Garda: suggestions from the hotels
Romina, Christian e Monica
(hotel manager)
4 Star Hotels

Trentino and Val di Sole are authentic paradise among our wonderful nature. The right place to find out relaxation for your body and mind and the perfect destination for sport addicted and wonderful landscape seekers. (Monroc Hotel) →

Join us on holiday with all the Family!! The value and hospitality of a Family Business together with professionalism will turn your vacation into an unforgettable experience!! (Tevini Dolomites Charming Hotel) →
Riva del Garda: places to see in the area