Hotels to remember: Dolomiti
Dolomiti: introduction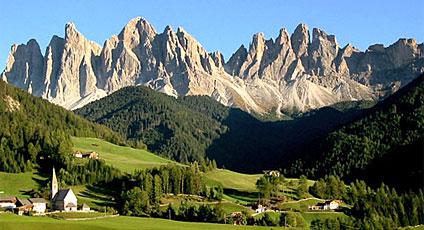 The mountainous territory of the Dolomites extends between the regions of Trentino Alto Adige and Veneto, and is subdivided into the Western and Eastern Dolomites. The mountains were so named by the scholar Déodat de Dolomieu, who was the first to study their chemical composition. The people of the whole area of the Dolomites love and take great pride in the mountains, as they have done for centuries.
Part of this tradition is that of the "ladino" language which is still spoken in Badia, Val Gardena, Comelico, Val di Fassa, Val d'Ampezzo, Cadore, Val di Zoldo, Agordino and Livinalongo.
The fauna is spectacular, with over 1500 different species (including over 50 types of Orchid), in a mixture of woods and forests, and is considered to be amongst the largest in Europe. There are also many species which live exclusively in the Dolomites. The fauna is also particularly rich with a great number of indigenous animals such as the chamois, ibex, the royal eagle, owl and crow.
Dolomiti: suggestions from the hotels

Join us on holiday with all the Family!! The value and hospitality of a Family Business together with professionalism will turn your vacation into an unforgettable experience!! (Tevini Dolomites Charming Hotel) →
Alexia Linder
(Proprietaria)
Small Boutique Hotels

The Dolomites are a UNESCO Natural Heritage and Selva you can almost touch them with your finger. In both winter and summer holidays in Val Gardena always gives incredible emotions. (Boutique Hotel Nives) →
Julia Senoner
(Responsabile Online )
5 Star Hotels
The Dolomites are renowned as a walker's paradise and prized for their sensational regenerative effects. The air at between 1,200 and 2,000 metres a.s. l. releases happiness hormones. Mountain of choices awaits you! (Hotel Adler Dolomiti) →
Dolomiti: places to see in the area