Hotels to remember: Selva dei Molini
Selva dei Molini: introduction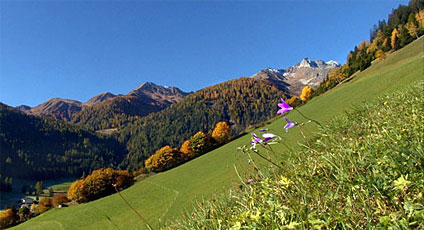 Surrounded by the Zillertal Alps, Selva dei Molini is situated in a valley, the Valley of Selva dei Molini, rich in meadowlands and with a typically rural landscape. The inhabitants continue to observe local traditions and customs whilst at the same time embracing the new with a spirit of genuine hospitality.
Selva dei Molini is the ideal point of departure for a number of walks and excursions, which are suitable for both expert climbers and for those simply wishing to enjoy a leisurely walk, along well kept pathways through woodlands and along the river banks.
Favorite destinations include the Porro Refuges and the Ice Bridge and artificial lake of Neves. For those searching for rest and wellness, a number of establishments offer a variety of treatments from baths, to massages and Kneipp therapy. Those interested in mountaineering will be unable to resist the appeal of the heights of Gran Pilastro, Cima Bianca, Gran Mesule and Turnerkamp, all well above three thousand meters in altitude. In the immediate vicinity of Selva dei Molini one finds Lappago.
Selva dei Molini: suggestions from the hotels
Anna Tonino
(Service)
5 Star Luxury Hotels
Time is priceless. Luxury an attitude to life which is reflected in every courteous gesture and in every fulfilled desire. We see it as an objective & a passion at the same time to turn your 5-star holiday in South Tyrol into a celebration! (Alpenpalace Spa Retreat) →
Hotel Petrus
(Hotel)
4 Star Hotels
The MMM Museum of Reinhold Messner designed by Zaha Hadid is just nearby (Hotel Petrus) →
Selva dei Molini: places to see in the area