Hotels to remember: Cortaccia
Cortaccia: introduction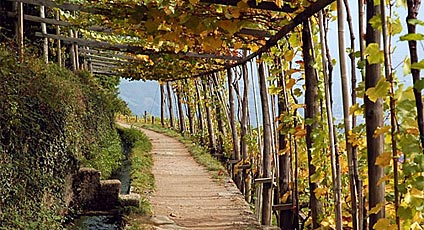 Like the towns of Magré and Cortina d'Adige, Cortaccia sulla Strada del Vino is a picturesque wine town surrounded by a landscape characterised by vineyards, orchards, oleanders, figs and olives.
From the heights of a sunny plain, Cortaccia sulla Strada del Vino dominates the whole of the Val d'Adige. The a mixture of Mediterranean and Alpine influences, with houses which have been built in total harmony with the natural environment is characteristic of the town's urban style. This is where one can find the highest vineyard of the Alto Adige.
There are a great number of itineraries for excursionists; the visitor can see the residences of Freienfeld and Strehlburg, the garden of Castel Turmhof at Niclara and the Small Church of St Giorgio at Corona. Visitors can join a number of guided tours of the historic center and the local wine cellars.
Traditional events include a ceremony to welcome guests to the town, barbeques in the vineyards and evenings dedicated to film shows. For sport enthusiasts Cortaccia sulla Strada del Vino provides facilities for bowling, fitness, bowls, tennis, netball and volleyball.
Cortaccia: suggestions from the hotels
Barbara Maffei
(Proprietaria)
4 Star Hotels

Welcome... in front of you one of the gorgeous place in the world: the Dolomites on the 2009th the Dolomites have been declared World Heritage Site (Biohotel Hermitage) →
Cortaccia: places to see in the area