Hotels to remember: Alta Badia
Alta Badia: introduction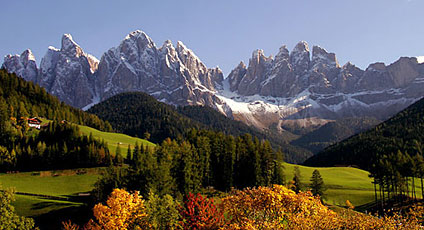 Squeezed between the Cir mountains, the Sassonger, the Sella mountains and the Fanes-Conturines, one finds the Alta Badia, heart of the ladina territory. Alta Badia is formed by six localities grouped in three districts: Valle, Corvara and Badia. Alta Badia can be found in the central part of the Pallidi mountains, an enchanting corner dominated by the Sella massif.
Cyclists will find an endless number of routes which can be taken both on and off the roadways, routes which also provide the opportunity to discover the cultural aspects of the area.
One of the main routes, which passes through all of the principal localities of the Alta Badia, is that which departs from Corvara and terminates after roughly thirty kilometers at Colfosco. Ski enthusiasts can enjoy an astounding 130 slopes at Alta Badia which, not surprisingly, hosts a number of International ski events.
Local cuisine includes traditional dishes such as "Panicia", "Bales", "Turtres" and "Crafuns" all delicacies to savor!
Alta Badia: suggestions from the hotels
Julia Senoner
(Responsabile Online )
5 Star Hotels
The Dolomites are renowned as a walker's paradise and prized for their sensational regenerative effects. The air at between 1,200 and 2,000 metres a.s. l. releases happiness hormones. Mountain of choices awaits you! (Hotel Adler Dolomiti) →
Verena S.
(Segretaria)
5 Star Hotels

Because we are situated in the heard of the Dolomites, a UNESCO world heritage. In winter and in summer we are the ideal location for mountain lovers! (Alpenroyal Grand Hotel) →
Alexia Linder
(Proprietaria)
Small Boutique Hotels

The Dolomites are a UNESCO Natural Heritage and Selva you can almost touch them with your finger. In both winter and summer holidays in Val Gardena always gives incredible emotions. (Boutique Hotel Nives) →
Alta Badia: gourmet addresses
Alta Badia: places to see in the area