Hotels to remember: Bolzano
Bolzano: introduction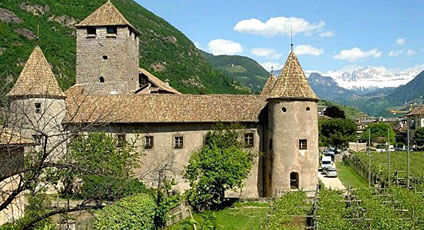 Bolzano lies along the axes of the Brennero, immersed in the heart of the Dolomite part of the Alto Adige, at the confluence of the Talvera torrent and the Inarco River.
From Bolzano roads lead to all the most beautiful places to visit in the Alto Adige. The traveller will be struck by the great expanses of greenery which surround Bolzano; the Talvera Park, the woods and the prolific vineyards. The Rose Garden, which during some hours of the day is filled with a beautiful pink light, is enchanting.
To visit: the Civic Museum, the Museum of the School, the Museion, the Archaeological Museum of Alto Adige, the Natural Science Museum, the Palazzo and Merchant Museum. The markets held in the various districts of the town are of certain interest as are the second hand goods market and the Christmas Market.
Thanks to the area's ample production of grapes, Bolzano is famous for its wines such as the Lagrein and Bolzano/Gries. The gastronomic specialities include "Weinsuppe", "Grost", "Schlutzkrapfen", "Omelette" and "Kaiserschmarn".
Bolzano: suggestions from the hotels

From the cuisine to the architecture to the character of the people who live here: Merano combines traditional Tyrolean and Mediterranean cultures to perfection (Boutique & Design Hotel ImperialArt) →
Romina, Christian e Monica
(hotel manager)
4 Star Hotels

Trentino and Val di Sole are authentic paradise among our wonderful nature. The right place to find out relaxation for your body and mind and the perfect destination for sport addicted and wonderful landscape seekers. (Monroc Hotel) →
Verena S.
(Segretaria)
5 Star Hotels

Because we are situated in the heard of the Dolomites, a UNESCO world heritage. In winter and in summer we are the ideal location for mountain lovers! (Alpenroyal Grand Hotel) →
Bolzano: gourmet addresses
More suggestions and useful addresses
Bolzano: places to see in the area