Hotels to remember: Trento
Trento: introduction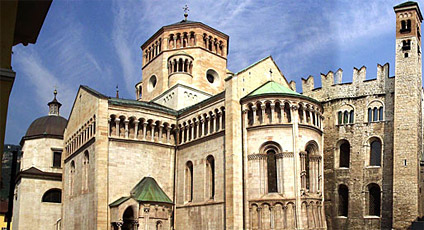 Sited in an area of great archaeological interest, Trento has truly ancient origins which can be traced back to the Neolithic period, the era of the first human settlements. The city of Trento is linked to the history of the unification of Italy, having remained, along with its province, under the power of the Austrian Empire until 1918. Trento is known on a world wide scale because it is the seat of the XIX Ecumenic Council, known as the "Trento Council".
Visitors will find themselves immersed in the history of the town simply by visiting its sites such as the Cathedral, the Civic Tower, Palazzo Pretorio and Museum of Sacred Art, Neptune's Fountain, the Jesuit Church of St Francesco Saverio, Palazzo Thun, the Vanga Tower, the Abbey of St Lorenzo, the Church of St Maria Maggiore, the Provincial Art Museum, and the Trento History Museum.
The Piazza Duomo is one of the most beautiful squares in the whole of Italy, with its spectacular frescoed houses. The "Giro di Sass" is a local tradition, in which the inhabitants of Trento, take an early evening stroll through the town.
Trento: suggestions from the hotels
Barbara Maffei
(Proprietaria)
4 Star Hotels

Welcome... in front of you one of the gorgeous place in the world: the Dolomites on the 2009th the Dolomites have been declared World Heritage Site (Biohotel Hermitage) →

Join us on holiday with all the Family!! The value and hospitality of a Family Business together with professionalism will turn your vacation into an unforgettable experience!! (Tevini Dolomites Charming Hotel) →
Romina, Christian e Monica
(hotel manager)
4 Star Hotels

Trentino and Val di Sole are authentic paradise among our wonderful nature. The right place to find out relaxation for your body and mind and the perfect destination for sport addicted and wonderful landscape seekers. (Monroc Hotel) →
Trento: gourmet addresses
More suggestions and useful addresses
Trento: places to see in the area