Hotels to remember: Ortisei
Ortisei: introduction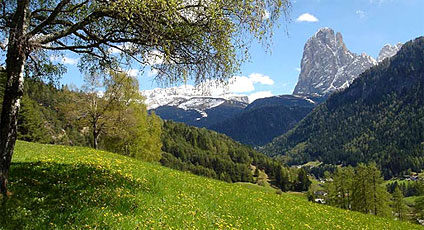 Ortisei, the capital of the Val Gardena is situated at an altitude of roughly 1200 meters, at the feet of the Siusi Alps, below the woods of Rasciesa. There is a lively historic center, but Ortisei also offers the visitor relaxation in the quiet districts of San Giacomo and Bulla.
Ortisei is a modern town which also represents the traditional heart of the ladina culture: in fact ladina is the mother tongue of roughly eighty percent of the population.
Ortisei is known principally as an ideal destination for winter touris with ski slopes which are easily reached thanks to a number of cableways. Two of these in particular, connect tourists with the Altopiano of Siusi and Seceda, also suitable for those who do not wish to ski. A walk along the old tracks of the Chiusa-Val Gardena railway line which links Ortisei with Santa Cristina Val Gardena is captivating.
For those interested in the traditions of the area, as well as the ladina culture, Ortisei has a number of craft shops linked to an age old tradition of wood sculpture.
Ortisei: suggestions from the hotels
Alexia Linder
(Proprietaria)
Small Boutique Hotels

The Dolomites are a UNESCO Natural Heritage and Selva you can almost touch them with your finger. In both winter and summer holidays in Val Gardena always gives incredible emotions. (Boutique Hotel Nives) →
Julia Senoner
(Responsabile Online )
5 Star Hotels
The Dolomites are renowned as a walker's paradise and prized for their sensational regenerative effects. The air at between 1,200 and 2,000 metres a.s. l. releases happiness hormones. Mountain of choices awaits you! (Hotel Adler Dolomiti) →

Join us on holiday with all the Family!! The value and hospitality of a Family Business together with professionalism will turn your vacation into an unforgettable experience!! (Tevini Dolomites Charming Hotel) →
Ortisei: places to see in the area