Hotels to remember: Castelrotto
Castelrotto: introduction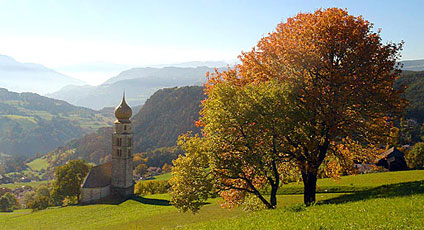 Immersed in a magnificent landscape of pasture land, meadows, woods, deep valleys and high peaks, Castelrotto is considered to be one of the most beautiful towns of the Alto Adige. Inhabited since prehistoric times, Castelrotto preserves customs, art, and a hospitable spirit which make the town a highly acclaimed tourist destination. One can visit the ruins of Castelvecchio, Castel Salego, Castel Rovereto, Castel Forte and Castel Presule.
A number of churches and chapels, situated along the pathways make the area truly enchanting and of great interest to the tourist, these include: the Parish Church of Castelrotto, the Chapel of the Castelrotto Bell tower, the Church of St. Anna di Ploi, the Church of St. Nicola a Tisana, the Church of St. Michele, the Church of St. Maddalena a Tagusa, the Church of St. Osvaldo, the Church of St. Valentino, the Church of St. Vigilio, the Church of St. Maria Ausiliatrice di Siusi and the Madonna di Fromm, final destination of pilgrimages from Castelrotto.
Castelrotto: suggestions from the hotels
Alexia Linder
(Proprietaria)
Small Boutique Hotels

The Dolomites are a UNESCO Natural Heritage and Selva you can almost touch them with your finger. In both winter and summer holidays in Val Gardena always gives incredible emotions. (Boutique Hotel Nives) →
Verena S.
(Segretaria)
5 Star Hotels

Because we are situated in the heard of the Dolomites, a UNESCO world heritage. In winter and in summer we are the ideal location for mountain lovers! (Alpenroyal Grand Hotel) →
Julia Senoner
(Responsabile Online )
5 Star Hotels
The Dolomites are renowned as a walker's paradise and prized for their sensational regenerative effects. The air at between 1,200 and 2,000 metres a.s. l. releases happiness hormones. Mountain of choices awaits you! (Hotel Adler Dolomiti) →
Castelrotto: places to see in the area