Hotels to remember: San Candido
San Candido: introduction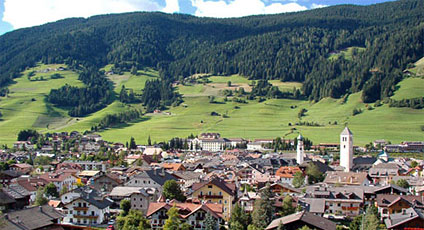 Sited just a few kilometers away from the Austrian border, San Candido is considered to be one of the most sought after holiday resorts in the whole of the Alta Val Punteria. The town, which is known throughout the world, is close to the Nature Reserve of the Sesto Dolomites, with its breathtaking scenery. The town is a vibrant tourist destination throughout the year.
During the winter season, skiers can enjoy snow covered mountains with 30 ski lifts and over 50 kilometers of slopes, of every level of difficulty, which extend in to the Val Fiscalina, the Valle Anterselva, Cortina d'Ampezzo and Austria.
In the summer season, visitors can enjoy a great number of unique excursions as well as sports such as horse riding. There are a number of cultural sites to visit; such as the Cathedral of San Candido, the Parish Church of St Michele, the Chapel of the Santo Sepolcro, the Chapel of Altotting, and the convent of the Franciscan monks.
San Candido: suggestions from the hotels
Anna Tonino
(Service)
5 Star Luxury Hotels
Time is priceless. Luxury an attitude to life which is reflected in every courteous gesture and in every fulfilled desire. We see it as an objective & a passion at the same time to turn your 5-star holiday in South Tyrol into a celebration! (Alpenpalace Spa Retreat) →
Hotel Petrus
(Hotel)
4 Star Hotels
The MMM Museum of Reinhold Messner designed by Zaha Hadid is just nearby (Hotel Petrus) →
San Candido: places to see in the area