Hotels to remember: Val Gardena
Val Gardena: introduction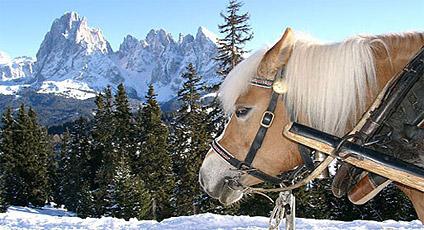 Val Gardena is part of the Sella Ronda. It is a natural paradise best discovered by wandering along the numerous pathways or by ski lift, stopping off at any of a great number of mountain chalets scattered across the territory.
Val Gardena is famous as a winter sports resort and for its tradition of wood carving. Val Gardena comprises the localities of Santa Cristina, Laion, Selva Gardena and Ortisei. A visit to the Odle Puez Nature Reserve should not be missed.
Lovers of walking will be spoilt for choice there are so many itineraries in Val Gardena: from Ortisei there is the route through the Val D'Anna, the Luis Trenker walk, San Giacomo, Orlo del Bosco, the Sentiero della Posta, and the Sentiero Crinia.
From Santa Cristina one can follow the Plesdinaz route, the path to Ortisei, the waterfall route, the road to Selva Gardena and the Sentiero Planetario. Finally, departing from Selva Gardena one can walk along the Via Crucis, Vallunga, the Belvedere walk and along the railway used by of the small Val Gardena train.
Val Gardena: suggestions from the hotels
Verena S.
(Segretaria)
5 Star Hotels

Because we are situated in the heard of the Dolomites, a UNESCO world heritage. In winter and in summer we are the ideal location for mountain lovers! (Alpenroyal Grand Hotel) →
Alexia Linder
(Proprietaria)
Small Boutique Hotels

The Dolomites are a UNESCO Natural Heritage and Selva you can almost touch them with your finger. In both winter and summer holidays in Val Gardena always gives incredible emotions. (Boutique Hotel Nives) →
Julia Senoner
(Responsabile Online )
5 Star Hotels
The Dolomites are renowned as a walker's paradise and prized for their sensational regenerative effects. The air at between 1,200 and 2,000 metres a.s. l. releases happiness hormones. Mountain of choices awaits you! (Hotel Adler Dolomiti) →
Val Gardena: places to see in the area