Hotels to Snuggle Up in This Winter
What's the perfect end to a perfect winter's day? A crackling fire, a glass of wine, and a sumptuous bed...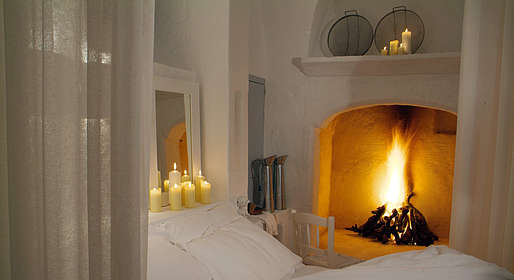 What's the perfect end to a perfect winter's day spent skiing down the mountain slopes, exploring postcard-perfect villages, or playing on one of Italy's beautiful coastal golf courses?
A crackling fire, a glass of wine, and a bed so comfortable you may never want to get up...
San Lorenzo Mountain Lodge, San Lorenzo di Sebato - Alto Adige
A 500 year old Alpine retreat, San Lorenzo Mountain Lodge dates back to the 15th century, when it was built to provide a luxurious hunting lodge for the local aristocracy.
Now an exclusive vacation villa, San Lorenzo has a living room, dining room, tea room, kitchen, relaxation area with a sauna and panoramic pool, and four bedrooms fitted out with artisan-crafted wooden furniture, hand woven textiles, thick goose feather quilts, and dramatic views of the Italian Dolomites.
Why now? San Lorenzo Mountain Lodge can normally be booked only in its entirety - but during the winter, you can reserve just one room in the chalet based on availability!
Chalet Il Capricorno, Suze d'Oulz - Piedmont
A charming ten room retreat in Val di Susa, Piedmont, Chalet Il Capricorno has everything an Alpine hideaway should have.
Romantic rooms with wood paneled walls, hand crafted furniture, thick fluffy quilts, and pretty balconies and terraces overlooking the Triplex, Genevris, and Bourget massifs; a cozy bar serving hot chocolate, cinnamon liqueurs, and grappa; a panoramic restaurant renowned for its creative mountain dishes; and direct access to the slopes of the Suze d'Oulx ski circuit... this is exactly the kind of place in which dream holidays in the mountains come true.
Why now? Although this historic mountain hotel is open all year round, winter is the ideal time to stay if you want to go skiing, snowboarding, free riding, snow tubing, ice skating, or snowshoe trekking...
L'Orto degli Angeli, Bevagna - Umbria
One of the most romantic period residences in Umbria, Orto degli Angeli, set in lovely gardens just inside the Medieval perimeter wall of Bevagna, more than lives up to its name: the "Garden of Angels".
Only recently transformed into hotel, for years this gorgeous 14 room property was the private residence of Francesco Antonini dei Conti Angeli Nieri Mongalli and, in fact, the place still looks and feels much like an aristocratic family home.
Sextantio Albergo Diffuso, Santo Stefano di Sessanio - Abruzzo
If you like your thrills to be frill-free, you're going to love Sextantio Albergo Diffuso - which provides guest accommodation in a sprinkling of simply decorated rooms located in various historic buildings in the historic mountain village of Santo Stefano di Sessanio.
The decor is about as essential as you can get, the amenities are luxury, as is the cuisine served in the hotel's restaurant, managed by none other than the Abruzzo-born Michelin-starred chef, Niko Romito!
Masseria Cimino, Savelletri di Fasano - Puglia
Just steps to the sea and the first hole of one of the most scenic golf courses in Italy, Puglia's beautifully located Masseria Cimino provides seriously luxe accommodation in just 15 gorgeous bedrooms and suites, featuring soft cream and ecru furnishings, romantic open fireplaces, and lovely rustic-chic travertine bathrooms.
Why now? During the winter you'll have the chance to taste this year's extra virgin olive oil produced on the estate and visit the oil press too
Alp & Wellness Sport Hotel Panorama, Fai della Paganella - Trentino
If your winter break needs to recharge both body and mind, then you need to choose a hotel which gives such weight to wellness that they've put it right in their name.
The Hotel Panorama is clear about their priorities: mountains, health, and sport. Here the Mottes family has been indulging their guests for generations with gorgeous views of the Dolomite peaks from every picture window , a sprawling and luxurious spa, a restaurant dedicated to traditional cuisine from Trentino, and a daily schedule of indoor and outdoor sports and activities.
Our Insider is
Could you be our next Insider? Share your love of Italy by contributing to ItalyTraveller! See how!
Main destinations