Hotels to remember: Milan
Milan: introduction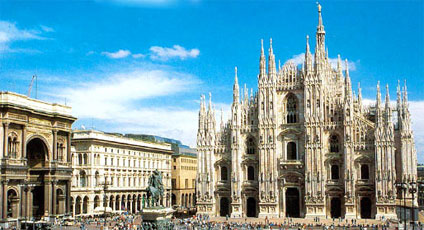 Founded in the 400s, Milan has, for centuries been an important commercial and cultural center. As well as being a city of Internationally recognized economic importance, Milan is a surprisingly green city.
There are a number of parks and gardens to be discovered along itineraries which include the town's many monuments and museums. Amongst the important buildings are the Sforzesco Castle, Milan Cathedral, the Vittorio Emanuele II Gallery, the Scala Theatre, the Gallery of Via Manzoni, Palazzo Reale, Palazzo Brera, the Rotonda della Befana, the Casa degli Omenoni, Casa Parravicini, Palazzo delle Stelline, Palazzo Fontana Silvestri, and the Branca Tower.
Milan has a number of prestigious museums, these include the Milan Civic Museum, the Cathedral Museum, the Manzoni Museum, the Museum of the Scala Theatre, the Ambrosiana Art Museum, the National Museum of Science and Technology Leonardo Da Vinci, the Brera Art Museum, the Cenacolo Vinciano chapel housing Da Vinci's Last Supper fresco, the Cappuccini Museum of Culture, the San Siro Museum, and the Brera Astronomical Museum.
More suggestions and useful addresses
Milan: places to see in the area