Hotels to remember: Vigevano
Vigevano: introduction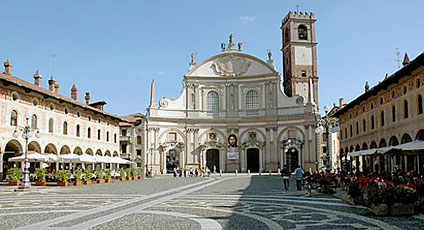 Vigevano's Piazza Ducale is reason enough to visit this town in the heart of Lombardy's Lomellina. A Renaissance piazza par excellence, this elongated rectangle, completely surrounded by elegant arcades, stretches out before the 17th century façade of the town's Duomo, like an immense courtyard which today, as in times past, forms the principal meeting point for local people and tourists alike.
The stunning piazza was built in record time, between 1492 and 1493, so as to provide a grandiose forecourt to Ludovico il Moro's castle: the elected summer residence of the Sforza. In order to transform his castle from Lombard fortress in one of Europe's largest fortified buildings, Ludovico enlisted the aid of great artists such as Leonardo da Vinci and Bramante, to whom the construction of the castle's imposing tower is attributed. The tour of the castle includes a visit to the Strada Coperta (a raised covered road, high enough for horsemen to ride through), the Loggia delle Dame, the Maschio, the Stables and the Torre del Bramante.
Also worthy of visit, the Church of San Bernardo, erected just outside the walls of the town and rebuilt towards the end of the 16th century. Originally, to the side of the church, there was a dungeon. A visit to the town's Shoe Museum offers a fascinating insight in to Vigevano's centuries-old shoe making tradition. Whilst in the area, travellers should be sure to make the trip to the village of Sforzesca, just a few kilometers away from Vigevano, where to visit Ludovico il Moro's hunting lodge: a marvellous example of rural architecture, constructed on a natural terrace overlooking the Ticino River.
Vigevano: places to see in the area