Urban aquatics
The historic waterways of Milan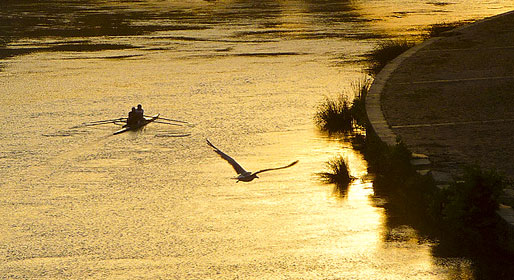 Milan's Navigli have allowed a city, located far from any of Italy's rivers, to benefit from an impressive web of waterways.
The name "navigli", meaning navigable, refers to the network of canals which the inhabitants of Milan began to construct in the late 12th century, initially for defense reasons and later to boost the city's status as important commercial and trading center.
After centuries of expansion, in 1805, Napoleon finally made inland Milan's dream come true: linking the city to the sea via the Naviglio Pavese and the River Po.
Where life begins
Somebody once said that "in Milan life begins in the Navigli" and, the zones of Porta Ticinese, the Darsena, the Alzaia Naviglio Grande and Alzaia Naviglio Pavese are still some of the city's most lively districts, brimming with trattorias, restaurants, and wine bars.
Amongst the ancient water edge taverns in the Navigli area, the "Posto di Conversazione", on the Alzaia Naviglio Grande 6, created in an old dairy, is one of the most popular

Another favorite port of call is the "Antica Osteria del Ponte", in Cassinetta di Lugagnano, just outside Milan.
Leonardo's Naviglio
The Naviglio Martesana, the third of the historic canals to be built, was constructed in the 16th century to link Milan with the River Adda.
Ludovico Sforza, the then Duke of Milan, called upon no other than the great Leonardo da Vinci to supervise the project.
Leonardo designed an ingenious system of docks to overcome the difficulties posed by the various levels of the terrain, and allow for the construction of a waterway stretching as far as lake Como

By boat, barge or bike
In recent years, the council of Milan has created a number of cycle paths along the Navigli's towpaths, making the bike the ideal method of transport with which to explore Milan's historic canals.