Hotels to remember: Crema
Crema: introduction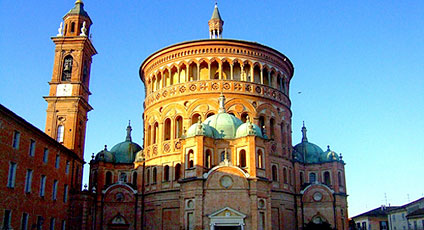 Piazza Duomo lies at the heart of Crema. The elegant renaissance style square is home to Palazzo del Comune with the Torrazzo, Palazzo Pretorio, Palazzo Vescovile and the city's Cathedral, a stunning edifice which, alone, makes the visit to Crema worthwhile.
Built between 1284 and 1341, to serve as powerful symbol of the city's recovery from the destruction wreaked by the Emperor Federick Barbarossa, Crema Cathedral is a superb example of Lombard Gothic architecture. The majestic form of the bell tower soaring up above the roof of the church, make the edifice seem even higher. The wonderfully ornate façade features a portal, adorned with statues of the Madonna and Child standing between San Pantaleo (patron saint of Crema) and St John the Baptist, and an immense rose window in white and pink marble. The austere interiors of cathedral represent a harmonious combination of Romanesque and Gothic styles.
Whilst in Crema, visitors should be sure to take a look at the town's baroque masterpieces: Palazzo Arrigoni Albergoni and the Church of the Santissima Trinità. The Civic Museum of Crema is situated within the ex convent of Sant Agostino and houses a fascinating collection of ancient manuscripts.
Crema: places to see in the area