Hotels to remember: Cernobbio
Cernobbio: introduction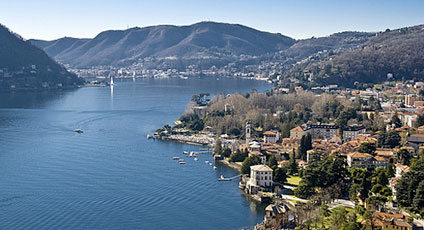 A walk along the panoramic Strada Regina leads to Cernobbio, one of the most elegant town's on Italy's Lake Como. Cernobbio's numerous villas testify to the lakeside town's past when members of the Lombard nobility chose it as destination for their summer vacations. Today, great many of the villas have been purchased by the Italian industrialists and international film stars who can be spotted lounging in Cernobbio's wonderfully aristocratic Piazza Rinascimento.
One of Lake Como's most sumptuous residences, Villa Erba was built in the 16th century and originally served as monastery. In the late 19th century, the edifice was purchased by the family of the award-winning film director, Luchini Visconti, who transformed the building in splendid private residence. Other properties worthy of mention include Villa d'Este, now a luxury hotel, and the liberty-style Villa Bernasconi, which functions as an important exhibition center.
Cernobbio is home to a number of attractive churches such as the 18th century Church of San Vincenzo, in which to find a quite magnificent baroque altar. Those who make the journey to the 16th century Monastery perched on the summit of Mount Bisbino, some 1325 meters above sea level, will be rewarded by a fabulous view over Cernobbio and the lake.
Cernobbio: suggestions from the hotels
Daniela Tagliamonte
(Proprietaria)
4 Star Hotels

There can be many different reasons to choose Relais Villa Vittoria, but I believe the main strong point is the environment: the "Romantic Shore", location where the Villa is built and the nature surrounding it. (Relais Villa Vittoria) →
Cernobbio: places to see in the area