Hotels to remember: Lake Iseo
Lake Iseo: introduction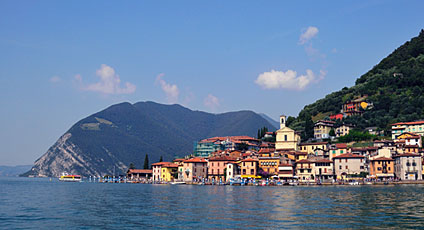 Breathtaking scenery, a plethora of water sports, and superb thermal baths. The reasons to visit Lombardy's Lake Iseo, also known as Lake Sebino, are almost too many to mention. Lying at the mouth of the Valcamonica valley, the Iseo is the region's fourth largest lake and the seventh largest in Italy, big enough to allow for swimming, fishing, diving and sailing. Lake Iseo is home to three islands, one of which, the Montisola, is the largest European lake island.
Whilst there is no public access to the islets of Loreto and San Paolo, the island of Montisola is easily reached from Tavernola Bergamasca. Montisola is inhabited principally by fishermen who take to the waters in boats realised by the "maestri d'ascia" - masters of the adze - and fish using hand woven nets. Those wishing to learn more about the tradition of net making should visit the island's museum dedicated to the art. Not to be missed, the Sanctuary of the Madonna della Ceriola, situated on the highest part of the island and from where a spellbinding view across the lake can be seen.
Ideal place where to indulge in moments of complete relaxation, the lakeshore is home to numerous thermal establishments. The town of Iseo, with its 14th century Oldofredi Castle, is well worthy of visit, as is Marone, with its beautiful churches, the most impressive of which that dedicated to San Martino of Tours, and dating back to 1754.
Lake Iseo: gourmet addresses
Lake Iseo: places to see in the area