Venice Simplon-Orient-Express
A legendary train and the art of the Italian Renaissance.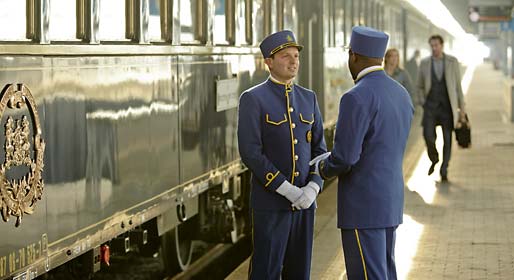 There is no other form of transport capable of conjuring up such a unique mixture of adventure, romance and Art Deco glamour than the "Venice Simplon-Orient-Express", immortalized in Agatha Christie's famous mystery and the film adaptation which earned Ingred Bergman an Oscar.
Venice Simplon-Orient-Express's escorted art-city tours
Having been successfully revived in1982, today the Venice Simplon-Orient-Express has joined forces with the National Gallery, London to create a number of exclusive tours, which start in the British capital and conclude in other great European cities such as Venice and Paris, visiting artistic masterpieces in the countries of their creation, in the company of expert guides from one of the world's most prestigious museums.
Renaissance rivals at the National Gallery
From May 2012 a new exciting, art-packed, itinerary will be available, in collaboration with the National Gallery's expert guides, following in the steps of the great Renaissance rivals, Leonardo da Vinci and Michelangelo.
The 9 day tour starts in London, with an exclusive viewing of sketches by Leonardo and Michelangelo in the British Museum, followed by a visit to the National Gallery to see Leonardo's The Virgin of the Rocks, together with the gallery's two paintings by Michelangelo.
Nine days travelling across Europe from London to Florence, via Milan, following the traces of great Renaissance artists: climb aboard the legendary Venice Simplon-Orient-Express

Masterpieces of Milan
After a night at London's Goring Hotel, travelers commence the two day journey aboard the legendary Venice Simplon-Orient-Express: destination Milan.
Here, in the city where Leonardo was court painter to Duke Lodovico Sforza, the artistic itinerary includes the viewing of Da Vinci's "Last Supper" in the Church of Santa Maria delle Grazie, his Codex Atlanticus, conserved in the Ambrosiana Library, as well as Michelangelo's "Rondanini Pietà" in the city's Sforzesco castle, and the Renaissance masterpieces in the Brera gallery.
In Florence, finishing where the Renaissance began
The journey concludes in Florence, with a three night sojourn at Villa San Michele by Orient-Express. In the Tuscan capital, the National Gallery guide accompanies guests on a tour of the Chiesa di Ognissanti, to see Ghirlandaio's The Last Supper, the Accademia Gallery, home to Michelangelo's David; Santa Maria Novella, and the Uffizi Gallery. From Florence, guests return to London by plane.
An emotion packed journey, experiencing the art of the Italian Renaissance, the vintage atmosphere of the Venice Simplon-Orient-Express, a stay in a number of the world's most luxurious hotels and some of the finest cuisine you'll ever enjoy.
Put it in your diary... or on your smartphone

Book your seats on the Venice Simplon-Orient-Express in 2012 on www.vsoe.com