Hotels to remember: Lodi
Lodi: introduction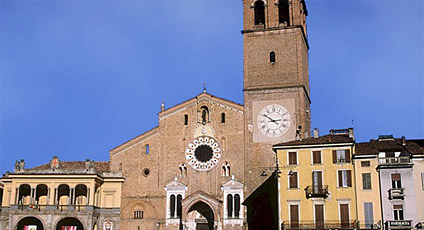 Sited on the banks of the River Adda, Lodi has a splendid Medieval and Renaissance historic center. Prior to becoming a city of the Roman Empire, the town was a Celtic village. The town's economy relies heavily on agriculture, in particular on the dairy industry.
The city is famous for its dairy products cream, butter, mascarpone and the extremely rare "grana con la lacrima" cheese. There are also a number of enterprises in the town producing ceramics and articles in wrought iron. Well worth a visit: Lodi Cathedral, the Civic Museum, and the Sanctuary of the Incoronata.
Local festivities include St Bassiano, the Fair of St Lucia, "Lodi al Sole", the Palio dei Rioni, the Lodigiano Gastronomic Fair and "l'Autunno è di Lodi". Local specialties, other than the famous dairy products, include "cannelloni alla lodigiana", "busecchin" and "verzata di luganeghe". S. Colombano is the most prestigious of the town's DOC wines.
Lodi: places to see in the area