Hotels to remember: Castiglione delle Stiviere
Castiglione delle Stiviere: introduction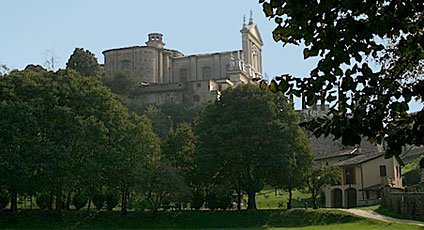 Situated in the gently undulating landscape of the Moreniche hills, Castiglione delle Stiviere is a small town just kilometers away from Mantova. The town reached its maximum splendour when Ferrante Gonzaga chose Castiglione delle Stiviere as both his official and family residence, thus transforming it in important principality. The royal family resided in the old castle of which only the medieval entrance tower remains.
Walking through the center of Castiglione, a great number of patrician town houses can be admired, dating back to the 18th and 19th centuries. In Piazza San Luigi there is an interesting fountain in late baroque style and, opposite, the town's most important edifice: the Basilica of San Luigi Gonzaga. In the Aloysius History Museum, frescoes and documents recounting the life and times of the Saint of Castiglione and the Gonzaga dynasty can be consulted. Another important house of worship in the town is Castiglione's cathedral, erected in 1762.
Not far from the Duomo, lies the Parco Pastore, a veritable natural oasis. Also worthy of visit, is the town's Red Cross Museum which recounts the story of the foundation, here in Castiglione, of Henry Dunant's international humanitarian association.
Castiglione delle Stiviere: places to see in the area