Hotels to remember: Oltrepò Pavese
Oltrepò Pavese: introduction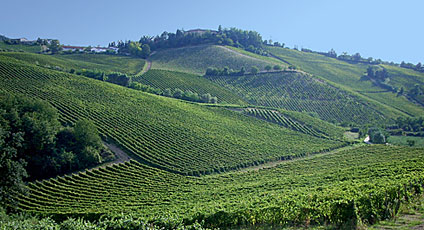 One of the secrets of the exceptional wines produced in the Oltrepò Pavese is the area's position on the 45th parallel (which corresponds to the latitudes of Central France's Bordeaux region). This triangle of land in southernmost Lombardy, nestled between the Po planes and the hills, is blessed by an almost Mediterranean microclimate, which allows for the production of some of Italy's finest DOC wines. The colours of the grape vines dominate the scenery of Oltrepò Pavese, and accompany the visitor on his journey along the "Strada dei Vini e dei Sapori" wine road.
Many the ancient villages to be visited, such as Casteggio, with its 18th century Charterhouse, home to a fascinating Archaeological Museum. Not far from here lies the stunning 11th century Hermitage of Sant Alberto da Brutio.
Under the dominion of the Malaspina family, the medieval town of Varzi, now known for its production of excellent salami, was an important trading center. The town's castle testifies to the power of the Malaspina, who controlled the passage of goods along the "via del sale" or "salt road", between Milan and Genoa. Whilst in the area, a visit to Salice Terme, town famous since the times of the ancient Romans for its rich thermal waters, is an absolute must.
Oltrepò Pavese: places to see in the area