Hotels to remember: Bormio
Bormio: introduction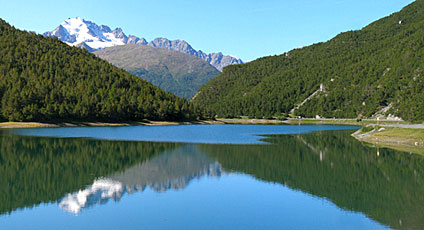 In the heart of the Valtellina, and the Italian Alps, lies Bormio. This little town, famous since roman times for its hot spring waters, has a population of just four thousand or so inhabitants, a mountain community used to living at an altitude of over one thousand meters, surrounded by a spectacular landscape of alpine woods, snow covered mountain slopes and glaciers.
Bormio rests at the foot of the Stelvio Pass and the Ortles-Cevedale mountain range, just a few kilometers from the Swiss border, in a point where the three valleys of Valdisotto, Vadidentro and Valfurva meet.
The town's principal thoroughfare is that of via Roma, a road lined with elegant shops but also attractive patrician palazzi with intricate, frescoed facades. In the center of town there is the 17th century Torre delle Ore, Palazzo de Simoni (home to both the town hall and civic museum), and the Torre degli Alberti.
Not far from here, lies the symbol of Bormio, the curiously named "Kuerc" building, meaning "lid". This 15th century construction built in the form of an amphitheatre, with slate roof, once served as the town's criminal courts. Another noteworthy edifice is that of the Collegiate Church of Saints Gervasio and Protasio, one of the oldest houses of worship on the Valtellina dating back to the 9th century and substantially rebuilt in the 17th century after damage caused by Spanish attack.
Bormio: suggestions from the hotels
Michele
(Responsabile Ospitalità)
4 Star Hotels
To go skiing by the Ski World Cup slopes, for the state-of-the-art thermal parks, for the history, culture, art of a City that is the meeting point between Italy and Northern Europe, for the excellent typical food. (Rezia Hotel Bormio) →
Bormio: places to see in the area