Hotels to remember: Sabbioneta
Sabbioneta: introduction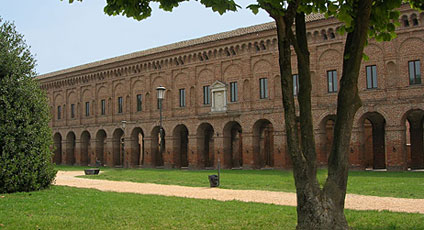 A six pointed star. This is how Sabbioneta, the town founded by Vespasiano Gonzaga, appears from above. Declared World Heritage Site by UNESCO, Sabbioneta has not one, but two, historic centres and a marvellous theatre, right in the middle of the town.
The Teatro Olimpico was constructed between 1588 and 1590 by Vincenzo Scamozzi, who used Palladio's theatre in Vicenza as his model. The most important edifice in the town, the theatre features wooden stands and a semicircular loggia with colonnade bearing statues of pagan divinities and emperors.
Piazza Ducale is home to the 16th century Church of Santa Maria Assunta and Palazzo Ducale, this latter completed in 1577. Once the seat of the town's political power, today the palazzo houses the Galleria degli Antenati, and painted wooden statues of members of the Gonzaga dynasty. Close to the piazza lies the museum of Sacred Art, where numerous treasures belonging to the Gonzaga family are conserved.
The other center of Sabbioneta is situated close to Palazzo Giardino, in the part of the town once reserved for exclusive use by Vespasiano. Behind its austere exterior, Palazzo Giardino contains rooms embellished with ornate frescoes extolling the virtues of civilised behaviour and the classical culture so dear to Vespasiano Gonzaga.
Sabbioneta: places to see in the area