Hotels to remember: Perugia
Perugia: introduction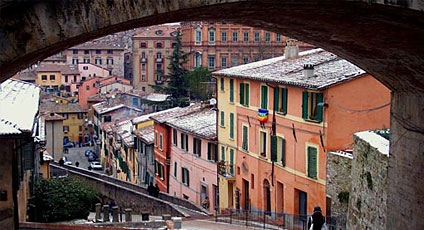 In the heart of Umbria, one finds Perugia, a city born more than two thousand years ago, older even than Rome, still conserved within the city walls built by the Etruscans. It is here that one finds one of Italy's most important archaeological museums the Museo Archeologico Nazionale dell'Umbria, and one of the most important squares in the whole of Italy, Piazza Grande.
Visitors to Perugia still enter the city via one of the seven gateways, two of which have the status of monuments: Porta d'Augusto and Porta San Pietro. A city full of historic sites: the Palazzo dell'Università Vecchia, Palazzo del Capitano del Popolo, Palazzo dei Priori, the Cathedral, the Fontana Maggiore, the St Francis Complex, the Oratorio of St Bernardino.
Not to be missed is the fortress which encircles the oldest part of the city, a medieval Pompei, brought to light thanks to a series of excavations. The events held in Perugia are of International importance, such as Eurochocolate, event dedicated to chocolate with 9 days of open air tastings, and Umbria Jazz, one of the most famous Jazz festivals in the whole of Europe.
Perugia: suggestions from the hotels
Roberta Biagioni Angeli
(Titolare)
Farmhouse Holidays
Come and relax you in the quietness of the nature in a romantic place rich in history. Immersed into the silence of an agriturism and you will live unforgettable moments... (La Posta di Confine) →

Villa Nuba is the only charming holiday rentals in Perugia.Right in the heart of Umbria.Perugia is one of the most beautiful medieval and etruscan cities in Italy and the perfect place from where to explore the rest of this lovely region. (Villa Nuba Charming Apartments) →
Alina Pinelli
(manager)
Farmhouse Holidays

Until now it has been difficult to find more than 'rustic charm' when it comes to renting a Villa in Umbria, with our unique "Fontanaro" Concierge 2.0 service and luxurious styling,. see also umbriatuscanyreview.com (Il Fontanaro) →
Perugia: gourmet addresses
More suggestions and useful addresses
Perugia: places to see in the area