In Vino Veritas
The history of wine in Torgiano's Wine Museum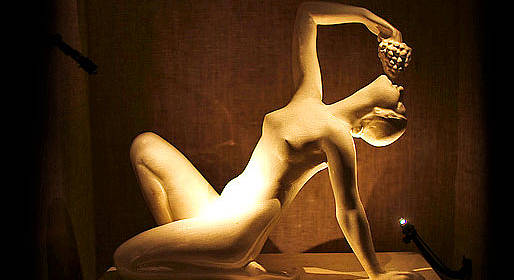 Torgiano's Wine Museum was created in 1974 by Giorgio Lungarotti and his wife Maria Grazia, to celebrate Umbria's centuries-old agricultural traditions.
The museum is located in the pars agricola of Palazzo Graziani-Baglioni, an impressive aristocratic residence dating back to the 17th century

Wine culture
Some 2800 artefacts, including archaeological finds, ancient farming tools, ceramic wine containers from the Medieval, Renaissance, Baroque and contemporary periods, engravings, sketches, and important texts regarding viticulture and enology, are housed in the museum, in a total of twenty rooms.
A tour of the museum introduces visitors to many of the cultural aspects linked to the cultivation of grapevines and wine production, examining the traditional techniques used and illustrating the Mediterranean and Near Eastern origins of wine making.
Grapes in art
A collection of tapestries and articles made from gold offer a precious insight in to the importance of the grapevines and of wine in the collective imagination of the civilizations who once inhabited continental Europe and the Mediterranean.
The rooms devoted to graphic art contain a collection of about six hundred drawings and engravings, all of which share a wine or grapevine theme.
Arguably the most important of the artworks on display, Andrea Mantegna's "Bacchanailia" never fails to draw the crowds

The ironmongery section is well worth a visit. Here you can see the wafer irons which have been used, from 1100 right up to the present day, to make Umbria's typical "cialde": the delicious biscuits traditionally served with a glass of Vin Santo, on special occasions.
Tools of the trade
The museum dedicates a large exhibition space to documenting the agricultural activities carried out in the area over the centuries, in the form of an impressive image gallery and a display of wine making instruments and farming tools.
Yet more information is contained in the museum's well stocked library. The wines produced by the Cantine Lungarotti are available for purchase at the museum's Osteria.
Museo del Vino Lungarotti
Corso Vittorio Emanuele, 31
Torgiano (Perugia)
Tel. +39 075 9880200
https://lungarotti.it/fondazione
Opening hours:
October-March: from Tuesday to Sunday | 10am - 1pm | 3pm - 5pm
''Aprile-June: from Tuesday to Sunday | 10am - 1pm | 3pm - 6pm
''July- September: from Monday to Sunday | 10am - 6pm