Castello di Petroia
(Historical Residences) Scritto di Gubbio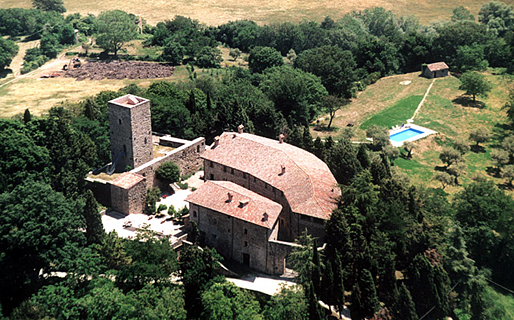 Three reasons why you'll love it here

The medieval charm of an ancient fortress
The gardens with swimming pool
The stunning view of the Chiascio valley
Occupying a commanding hilltop position in the countryside immediately outside the ancient Umbrian city of Gubbio, Castello Petroia dominates the whole of the Chiascio valley.
Extensive restoration work has brought to light all of the 12th century castle's original splendor and resulted in its transformation in exclusive period residence.
Rooms with a view
Castello di Petroia, is comprised of three buildings: the "Castellare maggiore", the "Castellare minore" and the "Mastio". All but one of the castle's bedrooms and suites are located in the Castellare Maggiore and Castellare Minore.
Expect antique furnishings, timber ceilings, period paintings and a full range of mod cons.
A bottle of champagne, a box of the finest chocolates, a bouquet of red roses? Additional touches of luxury to make that special someone feel even more special...

Sleeping in the tower
The "Torre del Mastio", the castle's ancient watch tower, has been converted into a unique apartment, distributed on various levels.
On the highest floor of the tower there is a private terrace affording breathtaking views across the Umbrian countryside and the very same landscapes which inspired the great Italian renaissance artists Perugino and Piero della Francesca.
A splash in the pool
Ancient woods, lush green meadows, centuries old olive groves: you could spend hours contemplating the scenery surrounding the castle and its magnificent swimming pool. Fitness fans can keep in shape, walking in the Umbrian countryside
Gala dinners, weddings and events
Guests take breakfast in the elegant Sala Guidubaldo. Dinners are served in the equally stupendous Sala degli Accomandugi.
The sumptuous Sale degli Stemmi and Mazzocchio, provide the idyllic venues for fairytale weddings, classical music concerts and important business meetings.
Castello di Petroia
Località Petroia

-

06020

Scritto di Gubbio

(Perugia)
Tel.

+39 075 920287
www.petroia.it
Castello di Petroia amenities
Outdoor facilities
Rooms
Rooms for families
Free Wi-fi
Air Conditioning
Room service
TV
Hair dryer
Wellness
Food and drink
Events
Various
Pets allowed
Car park
Laundry