Hotels to remember: Citta della Pieve
Citta della Pieve: introduction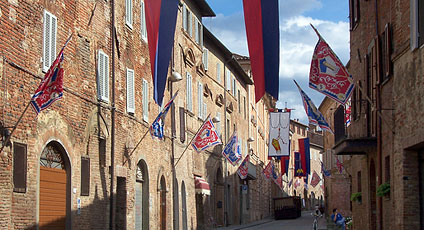 A splendid medieval town, in the shape of an eagle. This is Città della Pieve, just a few kilometers from Perugia, and inhabited since the time of the Etruscans. In the center of the town, great part of which is enclosed within a thick defence wall, lies the cathedral dedicated to Saints Gervasio and Protasio. This is the church or "Pieve" after which the town was named.
It is inside Citta della Pieve's various houses of worship that the works of two great local artists can be seen - artists known by the names of Perugino and Pomarancio. In the oratory of Santa Maria dei Bianchi there is a splendid fresco by Perugino, completed in 1504, in which the Adoration of the Magi is depicted, complete with backdrop of what, at that time, was a decidedly contemporary Città della Pieve.
The 14th century Castle is situated just a few steps away from the Church of San Francesco, now known as the Sanctuary of the Madonna of Fatima, in which to admire a stunning Pentecost by Pomerancio. Not to be missed: the 38meter high Torre del Pubblico, and the Churches of Santa Maria delle Mercede and of Sant'Agostino.
In the month of August, Città della Pieve hosts a centuries old event: that of the Palio dei Terzieri. This re-enactment of a bull hunt is preceded by a historic parade through the town center involving some seven hundred participants, all dressed in elaborate medieval costume.
Citta della Pieve: suggestions from the hotels
Beatrice De Berdt
(Front & back office)
4 Star Hotels
Umbria, Tuscany, and Lazio can be comfortably explored from Citta' della Pieve, perched on a hilltop 508 metres above sea level, over-looking Lake Trasimeno, and the enchanting Chiana valley. (Hotel Vannucci) →
Alina Pinelli
(manager)
Farmhouse Holidays

Until now it has been difficult to find more than 'rustic charm' when it comes to renting a Villa in Umbria, with our unique "Fontanaro" Concierge 2.0 service and luxurious styling,. see also umbriatuscanyreview.com (Il Fontanaro) →
Citta della Pieve: gourmet addresses
Citta della Pieve: places to see in the area