Hotels to remember: Pietralunga
Pietralunga: introduction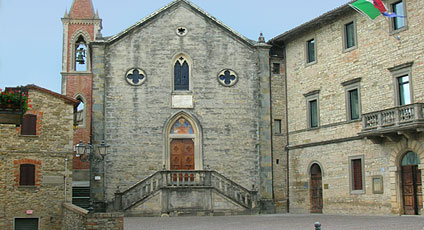 Grouped around its imposing Lombard Castle, Pietralunga sits on the top of a hill overlooking the Carpinella Valley - a strategic position much valued since the times of the ancient Romans. Pietralunga acquired its present appearance during the middle ages, time when the perimeter wall, the Palazzo del Capitano del Popolo and the Castle were all built.
Dating back to the 14th century, the Church of Santa Maria is by far the most important in the whole of Pietralunga. The building's beautiful Romanesuqe Portal was moved to the rear of the church during restoration work. Just a few kilometers from Pietralunga, we find another two important houses of worship: the Sanctuary of the Madonna dei Rimedi and the Pieve de'Saddi. The first was erected between the 7th and 8th century, although it was not until the 16th century that pilgrims began to flock to the sanctuary, following reports of a miraculous apparition of the Madonna here.
The Pieve, on the other hand, is a typical Paleo-Christian Basilica built on the site where, legend has it, Saint Crescenziano was killed. The edifice stands over a crypt and is further embellished by a splendid 9th century tower. Whilst in the area, a visit to the Mountain Oasis of Candeleto is all but obligatory.
Pietralunga: suggestions from the hotels
Paola Moro e Erich Breuer
(Direttore)
Historical Residences

Umbria, its green fields, smell of the flowers, its medieval towns on the top of a hill from which miles and miles of unique landscapes, its golden sunsets and the way the clouds grab hold of the mountains in the morning. A special place (Locanda del Gallo) →
Pietralunga: gourmet addresses
Pietralunga: places to see in the area