Hotels to remember: Amelia
Amelia: introduction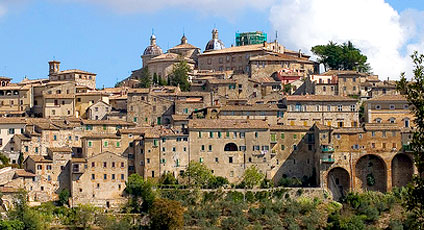 This enchanting town has a historical heritage of great interest: there was an Amelia which played a key role during the Roman Empire, still visible in the Porta Romana, the ancient walls, the water cisterns and the Roman houses.
Then there is the Amelia of Medieval times, with the Church of St Francis, the Church of St. Pancrazio, the Cathedral, the Church of the Madonna of the Five Fountains, where St Francis of Assisi resided, and the town houses of nobles, Farragini and Patrignani.
There is also modern Amelia, well aware of its cultural, artistic and historical heritage, which it jealously guards, whilst sharing it with all those visitors to this authentic piece of Umbria. From its elevated position, Amelia dominates the natural landscape offering travellers a splendid landscape over the groves of olives and holm oaks crossed by the flow of the Tevere river. Over the years Amelia's advantageous geographical position has encouraged the development of the agricultural sector with the production of typical regional produce.
Amelia: suggestions from the hotels
Ginevra Sanminiatelli
(Owner)
Historical Residences

A privately owned estate with cozy rooms inside a medieval borgo and, at walking distance,a restaurant with delicious food. Come and breathe history and relax in an incredible silence. Special events and menu on request. Pets welcome! (Castello di Sismano) →
Because it is possible to combine art and nature: from here you can easily reach some of the most beautiful towns of Umbria as Todi and Spoleto or venture into trekking. (San Pietro Sopra Le Acque Resort & Spa) →
In the peaceful countryside, close to any number of beautifully conserved medieval towns and villages: it's the perfect base for a relaxing holiday in Umbria ... (Torre Palombara - Dimora Storica) →
Amelia: places to see in the area