Hotels to remember: Orvieto
Orvieto: introduction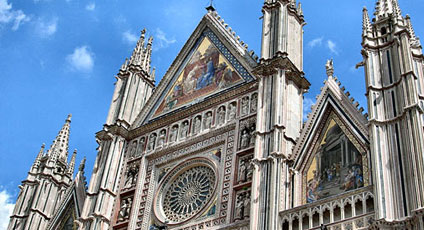 Whilst few people know that the famous Well of St Patrick was constructed in Orvieto when Pope Clemente VII sought refuge in the city, many more are familiar with the fine wine produced in the surrounding vineyards.
But Orvieto is also an architectural treasure trove with a host of fine buildings dating from the 13th to 16th century. In addition to St Patrick's well, constructed to conserve the water of the Rocca dell'Arbornoz, one finds the Cathedral, Palazzo dei Sette, Palazzo del capitano del Popolo, the church of St Giovenale, Palazzo Soliano, the Church of St Andrea, the Church of St Domenico.
Orvieto is also home to prestigious museums such as the Museum Opera del Duomo and the Museum of Modern Art. Visitors should be sure to visit the underground city of Orvieto, the Necropoli of the clay Crucifix and the Mancinelli theatre. Not to mention Orvietto's Cathedral, erected to consecrate the miracle of the blood, and where one can admire the Corporale and St Brizio chapels with frescos by Signorelli and Perugino.
Orvieto: suggestions from the hotels
Beatrice De Berdt
(Front & back office)
4 Star Hotels
Umbria, Tuscany, and Lazio can be comfortably explored from Citta' della Pieve, perched on a hilltop 508 metres above sea level, over-looking Lake Trasimeno, and the enchanting Chiana valley. (Hotel Vannucci) →
Ginevra Sanminiatelli
(Owner)
Historical Residences

A privately owned estate with cozy rooms inside a medieval borgo and, at walking distance,a restaurant with delicious food. Come and breathe history and relax in an incredible silence. Special events and menu on request. Pets welcome! (Castello di Sismano) →
Orvieto: gourmet addresses
Orvieto: places to see in the area