Hotels to remember: Nocera Umbra
Nocera Umbra: introduction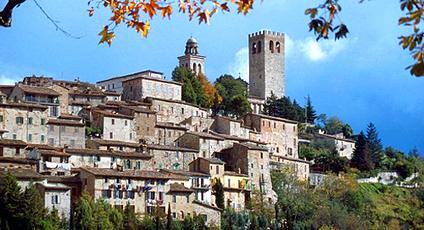 For centuries famous for its mineral water, from the spur of rock on which it was built Nocera Umbra dominates the valley of the Topino river. The town's past as defensive outpost, both in Roman and Medieval times is evident, particularly so in the thick perimeter walls which enclose the historic center.
Towering high above the rest of the town, is Nocera Umbra's cathedral: an impressive building originally constructed in Romanesque style, inside which the relics of the town's patron saint, San Rinaldo, are conserved. In the Church of San Francesco, noteworthy for its late gothic façade, a Museum complete with large archaeological section and a Pinacoteca containing fine examples of Umbrian art, has been installed. Also worth visiting are the Churches dedicated to San Filippo and Santa Chiara, this latter home to Carlo Maratta's Nativity of the Virgin.
Medieval Nocera is perhaps best represented by the town's Campanaccio. This imposing 11th century tower is all that remains of the castle which once defended Nocera and the northern border of the Duchy of Spoleto. The same defensive function was performed by the Palombara watch tower, an edifice of Byzantine origin. Just a few kilometers from the town, lie the Angelica springs, the curative properties of which have been extolled since the 16th century.
Nocera Umbra: suggestions from the hotels
Paola Moro e Erich Breuer
(Direttore)
Historical Residences

Umbria, its green fields, smell of the flowers, its medieval towns on the top of a hill from which miles and miles of unique landscapes, its golden sunsets and the way the clouds grab hold of the mountains in the morning. A special place (Locanda del Gallo) →
Nocera Umbra: places to see in the area