Hotels to remember: Deruta
Deruta: introduction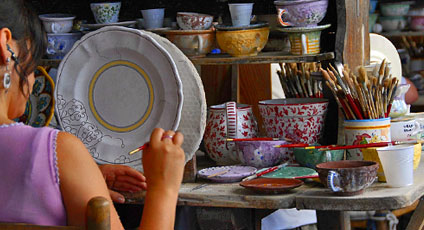 Deruta is known throughout the world for the production of precious majolica and ceramics, the decoration of which dates back to the Medieval ages, during the domination of the church. Even in those days ceramics were exported, guaranteeing Deruta a notable income. It was thanks to the decorations inspired by Raffaello that the product became increasingly famous.
Its still possible to admire the majolica in the Ceramic Museum of Palazzetto Municipale, or as architectural ornamentation on the facades of the Church of Madonna delle Piagge. But Deruta is not only about ceramics: characterized by its castle like construction, the city retains, like many of Umbrian towns, its medieval identity with the Porta San Michele Archanegelo, the Palazzotto Municipale, the Church of St Francis, the Church of St Antonio, the Church of the Madonna del Divino Amore.
The Artistic heritage of Deruta is abundant, with a series of paintings by from artists such as Alunno, Amorosi, Baciccio, Stendardo, Fiorenzo di Lorenzo and Guido Reno.
Deruta: suggestions from the hotels
elisa cerqueglini
(titolare)
Historical Residences

Torre della Botonta (Tower of Botonta) is part of the medieval fortified village of Castle San Giovanni, dating back to the 14th century, nestled in the heart of Umbria. (Torre della Botonta) →

Villa Nuba is the only charming holiday rentals in Perugia.Right in the heart of Umbria.Perugia is one of the most beautiful medieval and etruscan cities in Italy and the perfect place from where to explore the rest of this lovely region. (Villa Nuba Charming Apartments) →
Francesco Micci
(proprietario)
Farmhouse Holidays

The Song of Nature is an Eco Resort and Organic farm on Lake Trasimeno located in a beautiful stone house of 1600 surrounded by a centuries-old olive grove of 400 years and 30 hectares of woods and unspoiled nature. (Il Cantico della Natura) →
Deruta: gourmet addresses
More suggestions and useful addresses
Deruta: places to see in the area