Hotels to remember: Foligno
Foligno: introduction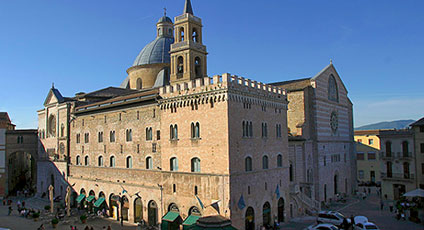 When one thinks of Umbria, one imagines a region rich in medieval towns perched on the hilltops and mountain side. Foligno represents one of the few exceptions, a medieval town built on the low lying land. In this Foligno is unique.
Foligno is also about age old traditions, which are still held closely observed. One of the occasions not to be missed is Giostra della Quintana, an equestrian display accompanied by marvelous period costumes, tournaments and medieval gastronmic fare, reliving the 1400s, and which catapults the visitor in to the atmosphere of ancient times.
In addition to the local traditions, one is struck by imposing historical buildings such as the Cathedral, the Palazzo Comunale, Palazzo Pretorio, Palazzo Orfini, Palazzo Trinci, the Romanesque Church of St Maria Infraportas, the Abbey of Sassovivo. Foligno is medieval art immersed in unspoilt nature, in the valley where the River Topino flows, a place to relax and reflect which will not easily be forgotten.
Foligno: suggestions from the hotels
Valentina Brauzi
(Direttrice Hotel)
4 Star Hotels
Trevi is a small medieval borough dozing among the Umbrian hills, here you can taste the famouse Olive Oil DOP from TREVI, the fantastic Red Wine DOC and DOCG, and you can try the funniest Truffles Hunting. Near Assisi in the middle UMbria (Antica Dimora Alla Rocca) →
elisa cerqueglini
(titolare)
Historical Residences

Torre della Botonta (Tower of Botonta) is part of the medieval fortified village of Castle San Giovanni, dating back to the 14th century, nestled in the heart of Umbria. (Torre della Botonta) →
Foligno: gourmet addresses
More suggestions and useful addresses
Foligno: places to see in the area