Hotels to remember: Todi
Todi: introduction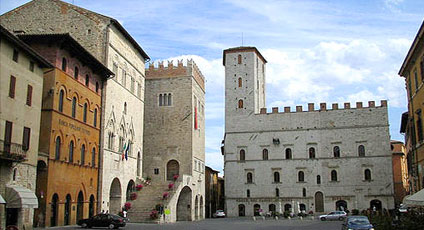 Those visiting Todi will, undoubtedly, want to discover the cultural attractions of the city, birthplace of the poet Jacopone di Todi, famous for his poems in dialect and one of the first in Italy to compose in dialect.

Although they may already know of Todi's mythological narratives which tell of its origins, the visitor will most certainly be surprised to discover the beauty of the monuments of the Medieval era and the works of art of the Renaissance period.
Amongst these, the Palazzo del Capitano, the Palazzo dei Priori, the Cathedral, the Church of St Fortunato, the city's patron saint and, finally, the Temple della Consolazione which houses numerous works of art. Even if Todi's past has been a bloody one, with numerous battles involving pillage and hostility, today Todi is known as a gloriously peaceful city of culture.
Todi: suggestions from the hotels
In the peaceful countryside, close to any number of beautifully conserved medieval towns and villages: it's the perfect base for a relaxing holiday in Umbria ... (Torre Palombara - Dimora Storica) →
elisa cerqueglini
(titolare)
Historical Residences

Torre della Botonta (Tower of Botonta) is part of the medieval fortified village of Castle San Giovanni, dating back to the 14th century, nestled in the heart of Umbria. (Torre della Botonta) →
Beatrice De Berdt
(Front & back office)
4 Star Hotels
Umbria, Tuscany, and Lazio can be comfortably explored from Citta' della Pieve, perched on a hilltop 508 metres above sea level, over-looking Lake Trasimeno, and the enchanting Chiana valley. (Hotel Vannucci) →
Todi: places to see in the area