Hotels to remember: Spoleto
Spoleto: introduction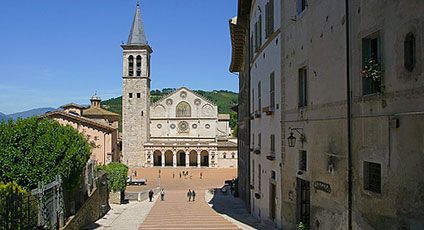 Visitors to Spoleto will find it hard to forget historical and artistic sites which are some of the regions most majestic such as the Bridge of Towers (Ponte delle Torri) which links Spoleto with the mountain, a construction more than 200meters long for a height of 80 meters; the Church of St Pietro, with its 13th century facade, subject of numerous photos and postcards; then there is the Cathedral with its mosaics and the Church of St Eufemia.
In addition to these rare treasures one finds the Basilica of St Salvatore, the Church of St Gregorio Maggiore, the Roman bridge, the Church of St Domenico, the Church of St Ponziano, the Church of St Giuliano and the Convent of St Francis.
Visitors will be struck by the Medieval appearance of Spoleto which has remained practically unchanged by time, thanks to a long period of considerable wealth as the Ducato Longobardo and then as key city of the Papal state. The Festival dei due Mondi which, in the June and July period, transforms Spoleto in to the world Capital of prose, music and dance is not to be missed.
Spoleto: suggestions from the hotels
Because it is possible to combine art and nature: from here you can easily reach some of the most beautiful towns of Umbria as Todi and Spoleto or venture into trekking. (San Pietro Sopra Le Acque Resort & Spa) →
In the peaceful countryside, close to any number of beautifully conserved medieval towns and villages: it's the perfect base for a relaxing holiday in Umbria ... (Torre Palombara - Dimora Storica) →
Valentina Brauzi
(Direttrice Hotel)
4 Star Hotels
Trevi is a small medieval borough dozing among the Umbrian hills, here you can taste the famouse Olive Oil DOP from TREVI, the fantastic Red Wine DOC and DOCG, and you can try the funniest Truffles Hunting. Near Assisi in the middle UMbria (Antica Dimora Alla Rocca) →
Spoleto: places to see in the area