Hotels to remember: Città di Castello
Città di Castello: introduction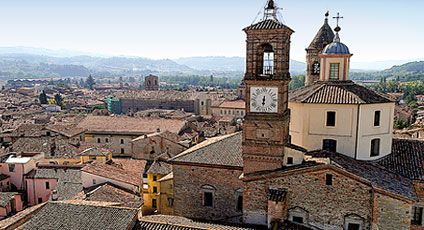 Each and every visitor arriving at Città di Castello will undoubtedly remain impressed by the medieval walls, built to protect the town and, for long stretches still in perfect condition. Its history will fascinate the tourist because Città di Castello, after having been destroyed by the barbarians, was for many years contested by different protectorates: from Perugia, to the Church of Florence, only becoming property of the papacy in 1500 under Cesare Borgia.
Hardly surprisingly, the places of interest are all linked to the city's history: the Palazzo del Podestà, Palazzo Comunale, the Cathedral, the Church of St Domenico, the Church of St Maria Maggiore, the Church of St Francis.
In every building it is possible to admire the architecture of the Gothic and Renaissance periods. The artistic heritage of Città del Castello is impressive: numerous paintings by Raffaello, Domenico Ghirlandaio and Signorelli can be seen at the art gallery Pinacoteca Comunale which also houses various works of art by the artists of the Marchigiana and Tuscan schools.
Città di Castello: suggestions from the hotels
Paola Moro e Erich Breuer
(Direttore)
Historical Residences

Umbria, its green fields, smell of the flowers, its medieval towns on the top of a hill from which miles and miles of unique landscapes, its golden sunsets and the way the clouds grab hold of the mountains in the morning. A special place (Locanda del Gallo) →
Città di Castello: gourmet addresses
Città di Castello: places to see in the area