Al Vescovado 7
(B&B and Homes) Gubbio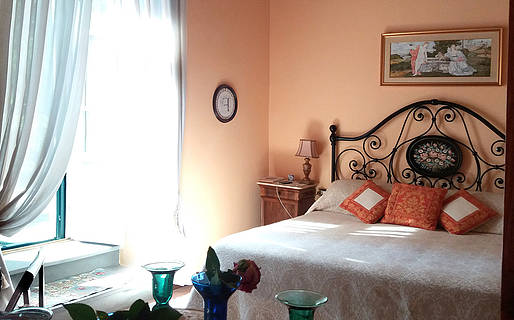 A medieval jewel in the heart of Gubbio
Three reasons why you'll love it here

In the Medieval heart of the city just steps from all the sights
The relaxing hanging garden
Traditional restaurants and shops steeped in Gubbio's history
Al Vescovado 7 is a gem of a B&B tucked into one of the most beautiful medieval hilltowns in Italy - Gubbio - and just steps from the town's architectural treasures, historic shops, and artisan workshops.
From Bishop's Palace to a Charming B&B
Al Vescovado 7 B&B is part of a larger residence dating to the 1300's that was restored in the 18th century by the the Bishop Sostegno Maria Cavalli, encompasing the adjoining building owned by the lusterware artist Mastro Giorgio Andreoli.
Medieval Beauty
This lovely B&B is a single apartment with three independent guest rooms: Il Dolce far Niente, Il Cacciatore, and L'Amor Sacro e l'Amor Profano, all carefully furnished and decorated with majolica pieces from the most important ceramic artists in the area.
Enjoy the relaxing atmosphere at Al Vescovado 7, and unwind in the double room with direct access onto the garden: "L'Amor Sacro e l'Amor Profano", dedicated to the ceramic artist Giuliano Carlino.

Relaxation in Town
At Al Vescovado 7, you can live like a local in Gubbio while also taking advantage of the privacy of the hanging garden. Step outside to explore the historic center, as all the major attractions are within walking distance, including the Palazzo dei Consoli and its famed piazza overlooking the valley, the Palazzo Ducale, and the Duomo.
From the B&B, you can easily drive to other famous locations in central Italy, like Assisi, Perugia, and Urbino.

Al Vescovado 7 amenities
Outdoor facilities
Rooms
Rooms for families
Rooms for the disabled
Free Wi-fi
Room service
Kettle
TV
Hair dryer
Kitchenette
Bathroom with bathtub
Various