Hotels to remember: Spello
Spello: introduction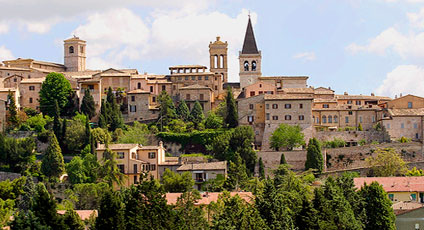 Spello is not only blessed with a superb geographical position, but is also the home of the greatest number of monuments dating back to the Roman period in Umbria, these including the city walls, Porta Consolare, Porta Urbica, Porta Venere, the theatre, amphitheatre and spas.
Ecclesiastical buildings of great importance are also numerous, amongst these are the Church of St Maria Maggiore, the Church of St Claudio, the Church of St Antrea and the Round Church. Then there is the beautiful Piazza della Repubblica with the Palazzo Comunale.
Spello is an artistic treasure trove, with magnificent frescos by Pinturicchio, depicting "The Nativity", "The Annunciation" and "The Dispute at the Temple" which can be admired in the Baglioni Chapel of the Church of St Maria Maggiore, as well as other frescos by Perugino. Offering visitors an unsurpassable view, Spello lies on the slopes of Monte Subasio, dominating the Topino valley and the surrounding hillside.
Spello: suggestions from the hotels
Rebecca Winke
(Titolare)
Farmhouse Holidays

Assisi is one of the most beautiful Medieval hilltowns in all of Italy, and birthplace of Saint Francis. From Brigolante, you can visit all of Umbria's most iconic hilltowns, wineries, abbeys & monasteries, natural parks, and other sights. (Brigolante Guest Apartments) →
Valentina Brauzi
(Direttrice Hotel)
4 Star Hotels
Trevi is a small medieval borough dozing among the Umbrian hills, here you can taste the famouse Olive Oil DOP from TREVI, the fantastic Red Wine DOC and DOCG, and you can try the funniest Truffles Hunting. Near Assisi in the middle UMbria (Antica Dimora Alla Rocca) →
In the peaceful countryside, close to any number of beautifully conserved medieval towns and villages: it's the perfect base for a relaxing holiday in Umbria ... (Torre Palombara - Dimora Storica) →
More suggestions and useful addresses
Spello: places to see in the area