Hotels to remember: Castiglione del Lago
Castiglione del Lago: introduction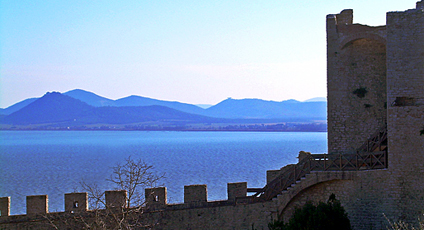 Originally it was an island. Then the waters of Lake Trasimeno receded and Castiglione del Lago was transformed in promontory with panoramic view of the lake. The Castello del Leone, with its irregular pentagonal shape, four corner towers, and 30-meter high triangular "mastio" tower, dominates the lake and the whole of the surrounding area. It was Frederick II of Swabia who ordered the castle's construction in 1247, as part of his extensive defence system which from Puglia spread across the whole of the Italian peninsular.
A walkway links the fortress to the 16th century Palazzo della Corgna, designed by the architect Galeazzo Alessi so as to incorporate the pre-existing Palazzetto Baglioni. Inside the Palazzo one of the most important cycles of late Umbrian-Tuscan mannerist artworks can be seen.
The Church of Santa Maria Maddalena was built in 1836 on a Greek cross plan. The interiors of the church are embellished with stuccoes by Piervittori. The Baroque Church of S.Domenico di Guzman features a splendid coffered ceiling and numerous artworks dating back to the 17th century. From Castiglione, boats depart for the three islands of Lake Trasimeno: the Isola Maggiore, Isola Minore and Isola Polvese.
Castiglione del Lago: suggestions from the hotels

Villa Nuba is the only charming holiday rentals in Perugia.Right in the heart of Umbria.Perugia is one of the most beautiful medieval and etruscan cities in Italy and the perfect place from where to explore the rest of this lovely region. (Villa Nuba Charming Apartments) →
Alina Pinelli
(manager)
Farmhouse Holidays

Until now it has been difficult to find more than 'rustic charm' when it comes to renting a Villa in Umbria, with our unique "Fontanaro" Concierge 2.0 service and luxurious styling,. see also umbriatuscanyreview.com (Il Fontanaro) →
Roberta Biagioni Angeli
(Titolare)
Farmhouse Holidays
Come and relax you in the quietness of the nature in a romantic place rich in history. Immersed into the silence of an agriturism and you will live unforgettable moments... (La Posta di Confine) →
Castiglione del Lago: gourmet addresses
More suggestions and useful addresses
Castiglione del Lago: places to see in the area