Hotels to remember: Polignano a Mare
Polignano a Mare: introduction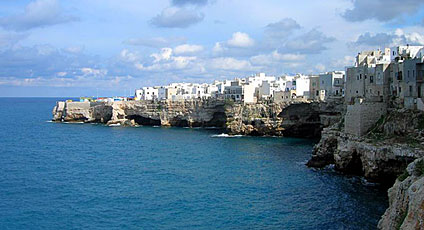 An enchanting seaside destination, Polignano a Mare is an ancient town built on a spur of rock directly above a magnificent, clear blue sea. The history of the town and the beauty of the surrounding landscape have made Polignano a Mare one of Puglia's major tourist attractions.
Through the archway of the Vecchia Porta, visitors access the old town of Polignano, to this very day encircled by the original perimeter walls and inside which the Chiesa Matrice is located. Inside the church, which served as the town's cathedral until 1818, precious works of art attributed to Stefano di Putignano, including an exquisite sculpture of the nativity, can be admired.
The rocky coastline of Polignano is characterised by an incredible number of inlets and natural caves, many of which were inhabited in prehistoric times. The "Grotta Palazzese", one of the largest caves in the Puglia region, is particularly worthy of visit. Polignano owes its fame above all to its clear blue sea and splendid beach, opposite which the "Scoglio dell'Eremita" can be seen, an immense rock rising up out of the waters. Just 3 km from the center of Polignano lies the magnificent 11th century Benedictine Abbey of San Vito.
More suggestions and useful addresses
Polignano a Mare: places to see in the area