Hotels to remember: Ostuni
Ostuni: introduction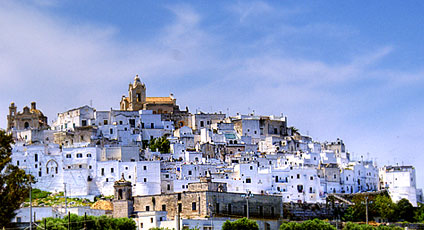 Ostuni was known historically as "White City" because of its small white houses, typical of Mediterranean architecture. The city is situated on the coast of the Murgia.
In the historic center of Ostuni, and especially in the Terra quarter, there are buildings of architectural importance: the Church of St Maria Maddelena, Palazzo Ducale, the Guglia di St Oronzo, the Sanctuaries of St Oronzo and St Biagio, the Church of the Annunziata, the Cathedral of Ostuni with the Bastions of Aragon.
The Lardagnano quarter and the St Angelo Grotta are also worth visiting. Ostuni is the second most important center after Brindisi.
The economy is based on the production of textiles, wood, and building materials. There are also industries connected to the tourism and the numerous bathing establishments.
Ostuni: suggestions from the hotels
Daniele Capriglia
(Titolare)
Small Boutique Hotels

Ostuni is the ideal place because of its centrality in relation to the rest of Puglia, a few minutes drive from major destinations. (Masseria Salinola) →
Ostuni: gourmet addresses
More suggestions and useful addresses
Ostuni: places to see in the area