Hotels to remember: Peschici
Peschici: introduction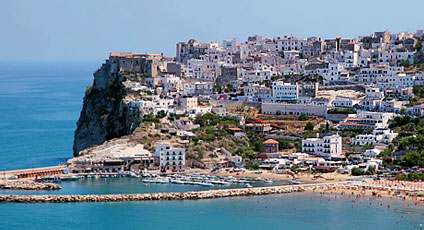 On the Northernmost point of the Gargano, as one approaches from Rodi Garganico, Peschici appears suddenly, rising up on the rock, right on the very edge of the cliff. The strategic position of Peschici makes it an excellent starting point for a tour of the Gargano.
Thanks to its wealth of natural beauty spots, Peschici has become a well known tourist base, with beaches, caves, bays and a crystal sea favored by underwater fishing enthusiasts.
The places to visit are: the Abbey of St Maria di Calena, the Castle, the historic center, the Church of the Madonna of Loreto, the Trabucchi (system of fishing typical to Peschici), the Umbra Forest. Numerous traditional popular events such as the Festa della Madonna di Loreto, the Festa della Madonna del Mare, the Festa di St Antonio, the Festa of the Patron Saint Elia, the August festivities.
Local craftsmanship is linked to the production of articles in terracotta. The typical products such as the olive oil and the wine made with a hint of rosemary really must be sampled and the local gastronomy offers a host of specialties such as stuffed aubergines and grilled sardines.
Peschici: suggestions from the hotels
Annalisa Nullo
(proprietaria)
B&B and Homes

Peschici: gourmet addresses
Peschici: places to see in the area