Hotels to remember: Vieste
Vieste: introduction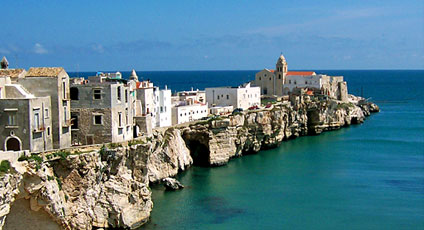 On the extreme Eastern point of the Gargano, with its two long beaches, Vieste has become an international tourist destination. The Medieval historic center rises up on the rocks, dominated by the Castle built by Federico II, whilst the majority of the residential buildings can be found between the Castle and San Felice point, stretching out towards the Lanterna Tower of Vieste.
Among the natural beauty spots one can visit is the great white rock known as Pizzomunno or Faraglione di Vieste. Then there are the sea caves, the Grotta di St Michele at Monte St Angelo, the Grotta of Castellana and the immense Umbra Forest, where to take a pic-nic or set off on an excursion.
Because of its exposed position Vieste is a great place for wind-surfing. Vieste also has a busy calendar of events: musical performances, film festivals art and craft Fairs, ballet shows and much, much more. The typical cuisine includes orecchiette, ncapriata and the legendary wild onions otherwise known as lampasciuni.
Vieste: suggestions from the hotels
Annalisa Nullo
(proprietaria)
B&B and Homes

Vieste: places to see in the area