Hotels to remember: Otranto
Otranto: introduction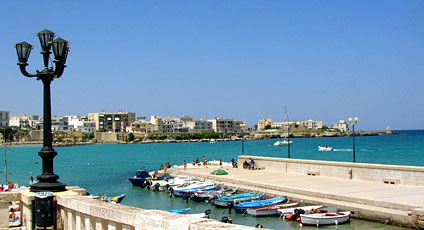 The region of the Salento is called "Terra d'Otranto" because this city has for centuries been the cultural and commercial heart of the region. Otranto is sited between the Adriatic and the Idrio Valley, and has, throughout its history, been conquered many times.
The old city, protected by city walls, is characterized by brightly colored houses, whilst the modern town, between the Minerva hills and Mount Carlo Magno, looks over the Otranto Canal, between Capo d'Otranto and Capo Linguetta.
The mild climate and great artistic heritage of the city make it a magnate for tourists. The town has long established fishing industry. Agricultural production of cereals, forage crops and vegetables, and cattle farming are important to the town's economy. The local textile industry is also significant.
To visit: the Cathedral, Casa Arcella, the Byzantine Church of St Pietro, the Church of St Maria dei Martiri, the Aragon Castle, the Borgo Antico, the Harbor, the Coast to the North of Otranto and the Alimini Lakes, the Badisco Port and the Grotta del Cervo.
Otranto: suggestions from the hotels
IONIAN TRAVEL
(Responsabile Commerciale)
4 Star Hotels

Springtime in Salento allows you to enjoy mild temperatures. It's possible to take long walks or bike through the olive groves and taste the typical traditional sweets, such as "zeppole of St. Joseph." (Masseria Relais Santa Teresa) →
Beatrice Longo
(Commercial consultant)
Resort

At Vivosa Apulia Resort you will find a modern All Inclusive offer, relax, comfort and funny activities for adults and children. A natural pine forest is all that separates the resort from the turquoise Ionian Sea and its gold-sanded beach. (Vivosa Apulia Resort) →
Sergio Positano
(Amministratore)
Small Boutique Hotels

Stay at Palazzo Guglielmo to experience an authentic slice of life in Puglia. The 14/09/13 the Daily Telegraph has selected Palazzo Guglielmo four of the best places to stay in Puglia in Puglia. (Palazzo Guglielmo) →
Otranto: places to see in the area