Hotels to remember: Brindisi
Brindisi: introduction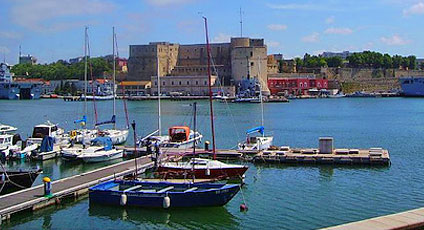 The power and fame of Brindisi have been guaranteed for centuries due the port, which is the safest of all those in the Adriatic sea. The port was called the "Passport to the Orient" after the opening of the Suez Canal, and today is the doorway' for thousands of tourists traveling towards the East.
Brindisi has been the residence of the poet Publio Virgilio Marone. The city was the Capital of Italy from 1943 to 1944 when it was home to Vittorio Emanuele III.
There are number of monuments: the Aragon Castle, the Harbour Columns, Svevo Castle, Tancredi Fountain, Brindisi Cathedral, the Church of St Maria del Casale, the Church of Cristo dei Domenicani, and the Church of St Giovanni al Sepolcro.
Among the various popular events are the Procession towards the sea of the Patron Saints Teodoro d'Amasea and St Lorenzo of Brindisi, the Cavallo Parato of the Corpus Domini and the Osanna.
The gastronomy of Brindisi is famous for its specialties such as its broccoli, mussels "racanate", octopus "alla pignata", "lampascioni" and "bocconotti". Brindisi promises a relaxing vacation amidst history and tradition.
Brindisi: suggestions from the hotels
Daniele Capriglia
(Titolare)
Small Boutique Hotels

Ostuni is the ideal place because of its centrality in relation to the rest of Puglia, a few minutes drive from major destinations. (Masseria Salinola) →
Brindisi: gourmet addresses
More suggestions and useful addresses
Brindisi: places to see in the area