Hotels to remember: Margherita di Savoia
Margherita di Savoia: introduction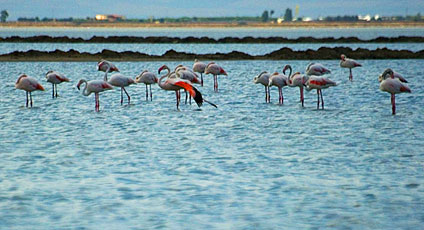 The salt marshes of Puglia's Margherita di Savoia are a veritable open air salt mine, famous since the 2nd century B.C. when the population originating from Dalmatia started to exploit this, the territory's most valuable treasure.
The salt marshes of Margherita di Savoia are the largest in the whole of Europe extending over some 4500 hectares of land. From the salt bed a precious "fango" or mud is extracted, a substance which has made Margherita di Savoia a popular destination with spa enthusiasts.
In 1977 the salt marshes were awarded status as National Nature Reserve, so as to better protect the diverse flora and fauna which inhabit them. The Nature Reserve of Margherita di Savoia is a favourite spot for bird watchers, eager to observe the dozens of rare species which either reside in the reserve permanently or stop off here during their migratory journeys.
Herons, silt plovers and flamingos are just three of the bird species to be found here. Where there is salt there is sea. Here, the blue sea of the Adriatic washes the long beaches of Margerita di Savoia on which numerous superb bathing resorts are situated.
Margherita di Savoia: places to see in the area